A few weeks ago, during Memorial Day weekend, I visited Louisville, Kentucky for a convention I've worked at for the past decade or so. I've been wanting to visit this particular cemetery for some time as it is one of the older cemeteries in the area, plus it is
the final resting place of Colonel Harlan Sanders of Kentucky Fried Chicken fame.
I took me a while to find the cemetery in the first place and I finally managed to locate it just as it was opening for the day. I figured that it wouldn't be too hard to find the Colonel's gravesite, but I was wrong. The place is HUGE! I must of spent an hour and a half driving through the the wonderful statuary and mausoleums. I never found it. When I got back home, I went online to find out that there's a yellow line painted on the roadside that leads you right to the grave. D'oh! Oh well, I have lots of nice photos otherwise and I'll have an excuse to go back next year.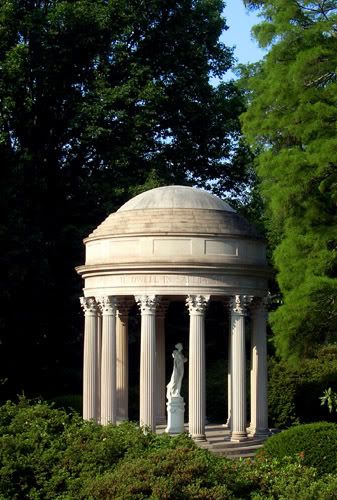 Click above to go to my Photobucket album.